Thursday, November 11, 2021, 2:30 pm News Flash Archive
Former Chief Nursing Officer Gloria Boyd, who retired on September 27, 2021 from Greenwood Leflore Hospital, has taken the same position at the Oktibbeha County Hospital Regional Medical Center in Starkville.
Mrs. Boyd took her new position on October 18. It was announced on Facebook and on the OCH website on November 3, 2021. For the full announcement, see here: Experienced Healthcare Leader Named Chief Nursing Officer at OCH
The Taxpayers Channel first reported on Mrs. Boyd's retirement from GLH here: Greenwood Leflore Hospital Chief Nursing Officer Gloria Boyd retires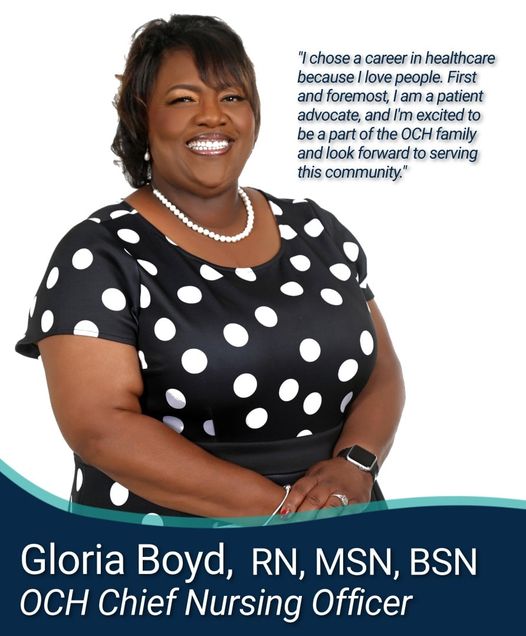 Gloria Boyd Facebook Announcement
The Press Release by OCH Regional Medical Center reads as follows:
OCH Regional Medical Center is proud to announce Gloria Boyd, RN, BSN, MSN, as the Chief Nursing Officer effective October 18.

"I'm pleased to welcome Gloria to the senior management team," said OCH Administrator/CEO Jim Jackson. "Gloria and I previously worked together for 19 years, and I have first-hand knowledge of Gloria's extensive experience in strategically managing operational issues while maintaining focus on quality and continuous improvement efforts. I am confident she'll be an asset to the OCH family," continued Jackson.

Boyd began her 35-year nursing career as a nursing home LPN Charge Nurse and Clinical Instructor at Amherst Career Center in Greenwood, MS, before joining Greenwood Leflore Hospital (GLH) in 1994 as the Post-Partum Charge Nurse. During her 30-year tenure with GLH, Boyd worked as Utilization Review and Case Management Supervisor and Director of Clinical Care Management and most recently served as Chief Nursing Officer at GLH.

"I can feel the family atmosphere here at OCH already, and I'm excited to be a part of that and to be working on the leadership team with Mr. Jackson again," said Boyd. "I chose a career in healthcare because I love people and serving others. First and foremost, I am a patient advocate, and I look forward to working together in this community to ensure that each patient is satisfied with our services and has the best experience possible."

Boyd earned her Bachelor of Science from Mississippi University for Women in 2016 and later her Masters of Science in Nursing Leadership from Grand Canyon University in 2019 and is a member of Traveler's Rest M. B. Church. She and her late husband, Melvin, of 30 years have two daughters and three grandchildren. During her free time, Boyd enjoys shopping, time with family, listening to worship music and serving in her church.
Ironically, OCH CEO Jim Jackson, who welcomed Mrs. Boyd to her new position, was fired as CEO by the Greenwood Leflore Hospital Board of Trustees on March 20, 2018. See our coverage here: Hospital Board fires CEO Jim Jackson
At the time, no reason was given for Mr. Jackson's termination. He was hired three months later to head the OCH Regional Medical Center.

John Pittman Hey
The Taxpayers Channel

News Flash Archive