Thursday, November 17, 2022, 4:09 pm News Flash Archive
Greenwood Leflore Hospital is closing the Greenwood Primary Care Clinic on November 30th. Dr. William B. Jones, a beloved family physician, has also been let go.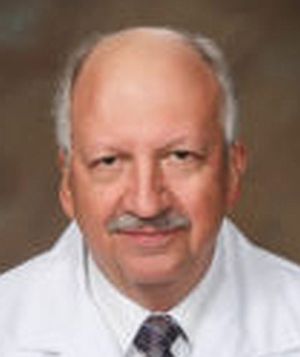 Dr. William B. Jones
The Primary Care Clinic provided family and internal medicine services to the community. Its closure was announced by a letter sent to the clinic's patients on November 14.
According to the letter, the closure is due to economic hardship in the community and at GLH. It said: "Hospital administration has begun taking certain actions to better match the hospital's cost structure with the demand for services."
The full letter may be seen here: Primary Care Clinic Closed
Dr. Jones was let go in July 2022 when GLH declined to renew his contract. His name and his picture were scrubbed from the hospital website, but the matter was never reported in the press.
The clinic has also been staffed by Dr. Andrew Bartlett, an internal medicine specialist, and Sabrina Matthews, NP. Ms. Matthews signed the letter on behalf of the clinic.
The clinic is presently operating out of a hospital-owned building in the Professional Plaza, tucked in behind the Burger King restaurant off Highway 82.
Dr. Jones, who grew up in Greenville, moved to Greenwood in 1977 and opened his private practice in family medicine. For several decades, his practice was located on the corner of Grand Boulevard and Claiborne Avenue.
In 2016, Dr. Jones handed over the practice to the hospital, while he continued to treat his patients there as a hospital employed physician. GLH leased the medical clinic from Dr. Jones.
Dr. Jones told The Taxpayers Channel how much he enjoyed continuing to treat his long-term patients, some of them going on 40 years.
Dr. Jones also described how the practice of medicine has slowly changed, some for the good, and some for the bad. Increasing regulations, insurance paperwork, and increasing difficulties dealing with government programs like Medicare and Medicaid, caused Jones frustration, as they have all physicians in private practice.
The atmosphere changed again when GLH decided last November to move the clinic from Jones' office to the hospital-owned Professional Plaza building, in order to save money.
But it wasn't enough, and now the entire clinic is being shut down. In the letter to patients, a possible alternative offered was for patients to see the Nurse Practitioner at the Itta Bena clinic, which is still operating.
For his part, Dr. Jones told us he's glad that he was able to treat his patients another six years since he turned over his practice to the hospital. He wouldn't say he's completely retired, but reports that he spends a good deal of time trying to figure out what to do with his old patient records and other furniture and equipment left over from his private practice days.
To review our reporting on GLH and its financial woes, please see here: Index of Greenwood Leflore Hospital news articles

John Pittman Hey
The Taxpayers Channel

News Flash Archive