Tuesday, September 26, 2023, 4:01 pm News Flash Archive
At the tail end of yesterday evening's three-hour long meeting of the Leflore County Board of Supervisors, former board attorney Betty Sanders announced to the board that a bid has been received in reply to the RFP recently published for the lease or sale of the Greenwood Leflore Hospital (GLH).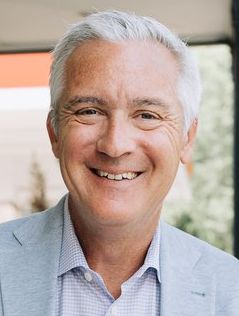 Quentin Whitwell
The bid was made by Progressive Medical Enterprise, LLC, a medical management company started and managed by Quentin Whitwell of Oxford. According to the Secretary of State's corporate records, Mr. Whitwell is the manager and member of the LLC.
Full video of the supervisor meeting may be seen here: Leflore County Board of Supervisors meeting, September 25, 2023
Whitwell is well known for his work to revitalize rural hospitals in Mississippi, most of which are in desperate financial straits.
Quentin Whitwell is the son of prominent Oxford attorney Robert Whitwell. Robert Whitwell served as United States Attorney for the Northern District of Mississippi from 1986 to 1993. He has served as a Chancery Court judge at Oxford since 2013.
Quentin Whitwell, himself a successful attorney, real estate investor, and lobbyist, was elected to the Jackson city council in February 2011, and resigned from that seat in October 2014.
But about the same time, Quentin Whitwell decided to return to Oxford with his family, and began to work managing hospitals.
In 2019, Whitwell and his partners purchased the Panola Medical Center in Batesville out of bankruptcy for $2.5 million, and were able to turn around that hospital to profitability, saving 700 jobs in the process.
In 2021, based out of Batesville, Whitwell and his team reopened the Quitman County Hospital in Marks, which had closed its doors in 2016. Rebranded as the Quitman Community Hospital, it has now regained federal designation as a critical access hospital, a designation it had previously held since 2004 until it closed.
Whitwell told Paul Gallo on the Supertalk FM program this morning that his companies manage seven hospitals, with agreements to start work with three more in the pipeline. No mention was made of Whitwell's bid yesterday regarding GLH.
GLH is in desperate financial trouble, surviving month to month on grants and loans from its owners, the city of Greenwood and Leflore County. It awaits word from CMS whether it will be granted critical access status, without which, hospital management has asserted, the hospital will have to close. See our previous reporting here: Even with critical access designation, GLH FY2023-2024 proposed budget projects operating loss of $5.4 million
As a last resort backup plan, the city and county owners have issued a "Request for Proposals" (RFP) soliciting bids to lease or purchase the hospital. This came after a failed RFP last summer, which attracted only one bidder, University of Mississippi Medical Center. But UMMC pulled out of negotiations when the Board of Supervisors refused to agree to provide its share of $9.1 million that UMMC asked the owners to pay for deferred maintenance and to settle around $5 million in money owed by GLH to Medicare.
To read our previous reporting on the RFP, see here: Round Two in Greenwood Leflore Hospital RFP for lease or sale
The new RFP suffers from many of the same problems as did the first RFP last summer, but it is to this new RFP that Quentin Whitwell and his team have responded with a bid offering.
No details of Whitwell's bid proposal have yet been made public. Perhaps, as in the previous RFP round, the bids will be kept top secret, which ended up creating a disaster the last time.
The Board of Supervisors meeting yesterday included over an hour and a half discussion of the hospital situation, including extended speeches by a number of persons. The crowd of concerned citizens, doctors, and other hospital employees who attended the meeting overflowed out into the hallways of the courthouse.
Those who spoke extensively during the meeting include:
Board president Reginald Moore (timestamp 5 min)

Dr. Roderick Givens (timestamp 16 min), GLH radiation oncologist and medical staff hospital board liaison

Dr. Harold Wheeler (timestamp 44 min)

Hospital trustees Tracy Shelton and Emma Bell Littleton (timestamp 57 min)

Greenwood Fire Chief and Hospital Trustee Marcus Banks (timestamp 1 hr 4 min)

District 1 supervisor Sam Abraham (timestamp 1 hr 20 min)
Much of the talk surrounded the board's previous refusal to allow GLH to draw additional money from the $10 million loan the county had obtained to keep the hospital open until it hears back from CMS about its critical access application. To see our reporting, view here: Leflore County Board of Supervisors denies Greenwood Leflore Hospital's request for $1 million draw for September payroll
After much discussion, the Board of Supervisors relented and approved $3 million in draws by GLH from the $10 million loan fund. The board expressed the view that this amount will keep the hospital operating through December 2023. The resolution and vote to approve the draws may be seen at timestamp 1 hour 38 minutes in the above video.
Upon this vote, the crowd erupted in applause.
So far, it has not been revealed whether Quentin Whitwell proposes to lease GLH, or to purchase the hospital outright.
Meanwhile, the community will look forward to finding out the management ideas being proposed by Whitwell, and whether any other bids are put in to take over management or even ownership of GLH.
---
To review our reporting on GLH and its financial woes, please see here: Index of Greenwood Leflore Hospital news articles

John Pittman Hey
The Taxpayers Channel

News Flash Archive