Friday, July 15, 2022, 10:12 pm News Flash Archive
The Greenwood Commonwealth reported this afternoon that Jason Studley, CEO of the struggling Greenwood Leflore Hospital, abruptly resigned today, effective immediately.
Studley told the newspaper that "he had come to a mutual understanding with the board that oversees the publicly owned hospital that the timing was right for him to depart."
Mr. Studley's notice, distributed to hospital employees, may be seen here: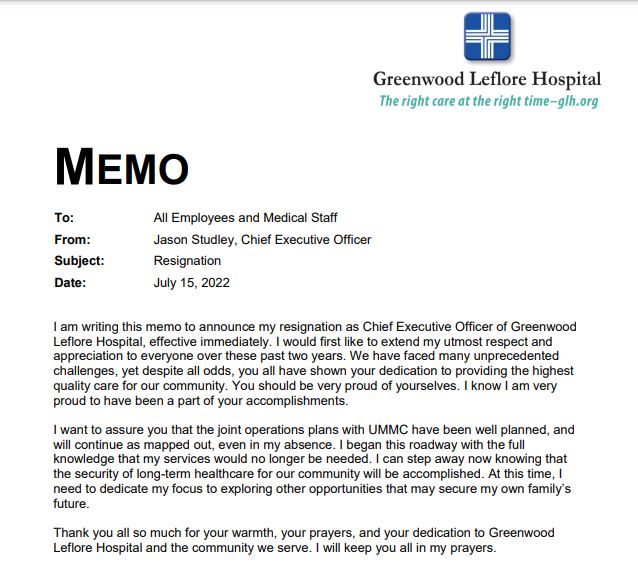 Mr. Studley is the fifth CEO to resign or be fired since 2009. Meanwhile, GLH has struggled financially, and now has very little cash to pay expenses. See our most recent reporting here: GLH losses for May total $3.16 million; total usable cash now down to $4.63 million
In September 2009, the hospital board abruptly fired CEO Jerry Adams. See our coverage here: GLH Board Fires Jerry Adams
In March 2018, the board fired CEO James Jackson. See here: Hospital Board fires CEO Jim Jackson
In August 2019, the board fired interim CEO Subho Basu. See here: Hospital Loses $733,336 in July
In October 2020, CEO Gary Marchand resigned. See here: Hospital patient revenue down $1.3 million compared to October 2019
Studley told the Commonwealth that he expects the hospital board of trustees to vote at Monday's meeting to recommend that the city and county, who jointly own the hospital, solicit a proposal from a larger medical entity for a joint operating agreement with GLH. Studley says he doesn't think the board will recommend a specific institution to partner with.
To review our reporting on GLH and its financial woes, please see here: Index of Greenwood Leflore Hospital news articles

John Pittman Hey
The Taxpayers Channel

News Flash Archive